Day 2 Part 3 - Meeting with Dr. Felipe Camaro of UNHCR
In the afternoon we met with Dr. Felipe Camaro of the office of the United Nations High Commissioner for Refugees (UNHCR) to discuss the problems of returned refugees. (In Spanish: "Alto Comisionado de las Naciones Unidas para los Refugiados", or ACNUR.) Dr. Felipe Camaro is originally from Colombia. He has been at the UNHCR office in Guatemala for 2 1/2 years.
Dr. Felipe Camaro of the Office of United Nations High Commissioner for Refugees (UNHCR)
February 28, 2000
(Translated and transcribed by Roberta Borgonovo)

Dr. Felipe Camaro of the Office of the United Nations High Commissioner for Refugees (UNHCR).

The repatriation of refugees back to Guatemala through the United Nations started officially in 1987, but people started to come back even before that. The role of UNHCR has been to:

- Support repatriation logistics

- Provide assistance: medical, nutritional plus agricultural packages, shelter packages, and small grants in cash

- Support reintegration with programs providing social services (basic needs) and productive services (income generating activities or help with land and agriculture).

The Resettlement Accord was actually the first of the Peace Accords to be signed, and according to its timeline, in 1998 the refugee repatriation was supposed to be over. But that did not happen until June 1999. However, from 1998 the focus has mostly been on reintegration, first by locating other parties (organizations, NGOs), and then by trying to make them focus a little more on refuges issues. Unfortunately events in the past two years (elections and Hurricane Mitch) have prevented that from happening. The result was that ACNUR ended up staying longer than expected. But resources are decreasing and the ANCUR staff was reduced from 70 to 12 people.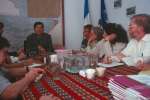 Dr. Felipe Camaro (center) meeting with us.
There are a few critical issues to deal with. First of all, there is the problem with land titles. Second, there is a need for "productive intervention", which takes more than two years. The goal is to ease direct aid and concentrate on generative aid that would improve agricultural production. Third, housing still requires attention. The government bought houses for the returned refugees, but they are "holes", and it would have been better to just give them the resources and let them build houses. And fourth, there is a need for the normalization of social services. There are also other issues that need to be addressed, and they mostly concern women and their lack of access to cooperatives, which prevents them from owning the title to land. Currently only men and widows have access to cooperatives.
Although many of these issues were identified, ACNUR cannot really do much because it would not be part of its mandate, which is only repatriation and reintegration. Besides, returned refugees might become conditioned to receive without effort, and the prolonged state of emergency would be more harmful than helpful.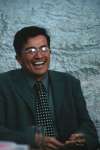 Dr. Camaro during a moment of levity.
ACNUR deals only with externally displaced people, and not internally displaced (or at least not directly). ACDP is actually an organization dealing with internal refugees. The main problem with internally displaced people is in determining who they are. There are no criteria: how can they be defined, for how long can they be considered as displaced people etc. Before any definition was considered, it was thought that about 1 million people were internally displaced in Guatemala, but now only between 100 and 200 thousand.
The repatriation program was only for those who registered as refugees or lived in refugees camps. Some exceptions were made for those who really wanted to return to Guatemala; on the other hand many registered refugees did not want to return. About 43,000 refugees returned to Guatemala.
Overall the repatriation to Guatemala was different from others because refugees negotiated their own rights, while ACNUR provided resources and witnessed the process. Also, although resources fluctuated from low to high, it was in general a luxurious repatriation in comparison with other refugee repatriations. As for the access to land, although there were problems with titles, most refugees had access to land (previously bought by the government for them). And finally, there was a clear focus on agricultural and legal integration.
[End of meeting notes]
Prev | Home | Next
All text and photos by David Booth unless otherwise indicated.
Change image size: Tiny | Small | Medium