Day 7 Part 1 - Touring the village, the school, the water supply
Saturday, March 4, 2000
In the morning we had breakfast with our host families, and then toured the village (Nuevo Mexico), viewing their school and their water supply.
Jesse (left) and my dad (under the net) still sleeping in the early morning as one of the children stands in the doorway. Our sleeping area, which we shared with the family's chickens, is about two feet higher than the floor where we cooked and ate, so this view is looking down toward the cooking and eating area. The wood cooking stove is on the left of the far wall; the table where we ate is on the right of the far wall. This family was unusual in that their home consisted of two shacks next to each other: this one, where they cooked and ate, and another smaller one next to it, where they slept. This one was about 20 feet by 30 feet (6 meters by 9 meters).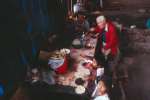 Breakfast, which was the same as lunch and dinner every day: tortillas and beans.


Heading out for the morning's activities.


Jesse plays with some of the kids while waiting for the group to assemble.


Crossing the stream that runs through the village. The building on the right is the women's cooperative store. It sold bags of purified water, soft drinks and village necessities.


Viewing the school in Nuevo Mexico.


School classroom.


One of several shared outhouses in the village.


Crossing a stream on our way to view the water supply in Nuevo Mexico. This village was lucky to have its water supply located uphill from the village, which helps avoid contamination.


That's me with my dad, while visiting the town water supply. The hats, long sleeves and trousers are for sun and insect protection. Light clothing offers better insect protection than dark clothing. We don't know if there was malaria risk in this area, but we brought lots of insect repellent as a precaution. And of course, we had updated other immunizations some weeks before the trip. [Photo by Joanne.]



Prev | Home | Next
All text and photos by David Booth unless otherwise indicated.
Change image size: Tiny | Small | Medium