Day 7 Part 2 - Villagers' coffee growing, host family scenes
Later in the morning we took a tour of the villagers' coffee growing efforts -- their sole source of cash revenue. Then we returned to our host families for lunch.
Walking to see the coffee crops.


Sifting the soil in preparation for planting coffee.


A villager describes the process and economics of growing coffee. Growing coffee is the only way they can earn money to pay for their land.


Back with our host family for lunch, Vincenta (the mother) returns with firewood for cooking, while her daughter Vidalia (center) and son-in-law Jorge sit with their baby.


Jorge, 20, and Vidalia, 18, sit with their 10-month-old baby, who is eating beans. The chickens will clean up any scraps of food that fall.


Otto, 4, poses with Vidalia's baby and a chicken, still wearing a few of the beans they were eating.


Blanca and another sister, Olga Kelly, 11, eat lunch.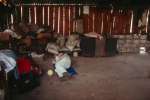 My dad takes a quick siesta before the afternoon's activities.


I relax in the shade, while children look on.


Eluvia (left) with WFP team leader Catherine.


Eluvia again.



Prev | Home | Next
All text and photos by David Booth unless otherwise indicated.
Change image size: Tiny | Small | Medium