Day 4 Part 2 - Guatemala City scenes and buses
Returning from our meeting with Hector Castaņeda, we viewed a few more city sights.
A major street on the way back from our meeting with pastor Castaņeda.


Another typical street in Guatemala City. The Pacaya volcano is again visible in the background.


More buses.


Many of the buses in Guatemala are independently owned and operated, and often they are very colorfully painted and decorated according to the whims of the owner. Known as "chicken buses", most of them are decommissioned American school and city buses. Some of them still have the familiar yellow school bus paint and the name of the school district where they were originally used.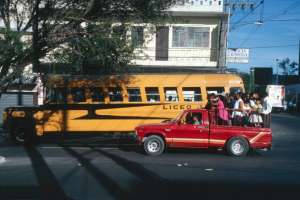 This red pickup truck demonstrates another form of shared transportation in Guatemala. The driver has picked up several passengers who have each paid him a small fare to ride in the back.


I don't know if these are private guards or military personnel, but they are another illustration of the many guns that are visible in Guatemala City -- a constant reminder of the history of violence.



Prev | Home | Next
All text and photos by David Booth unless otherwise indicated.
Change image size: Tiny | Small | Medium