Day 7 Part 4 - Meeting with the President of the Madre Tierra Women's Committee
Later in the day we met with the President of the Madre Tierra Women's Committee, who spoke to us about women organizing.
President of the Madre Tierra Women's Committee, Nuevo Mexico
March 4, 2000
(Translated and transcribed by Roberta Borgonovo)

The President of the Madre Tierra Women's Committee.
Madre Tierra is a small group of women-refugees returned from Mexico. We started organizing in Mexico, and we keep on organizing in Guatemala. The reason for the creation of Madre Tierra was the realization that only men had rights, even simple ones such as organizing. At first, there was a lot of opposition by the men, but with a lot of perseverance we were able to finally organize and have some independence.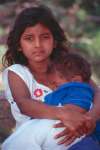 A girl takes care of her younger brother during a meeting.
Madre Tierra works in three communities in the South region, but we currently do not have a central office or a meeting place because of the lack of resources. One of Madre Tierra's objectives is to oversee a lot of small projects, things that we do with the support of small NGOs (Non-Government Organizations). For example, Madre Tierra runs a small store in the village and it is planning on building a windmill. All the income from these projects is saved for future projects. Another objective is to represent the rights and needs of the women of the village, such as when there was a meeting in Mexico to decide about going back to Guatemala, or during the juntas (administrative meetings typically held only by men). Through Madre Tierra all the women of the village were also able to get organized and go to San Vincente to vote for the presidential election. And another objective is to manage the changing relations between men and women and achieve more equality. A great result was the equal education for boys and girls.
Within Madre Tierra, the presidency and the other administrative positions rotate yearly; this is to teach the greatest number of women how to handle responsibilities and how to be in charge. The number of meetings depends on the needs of the community: it could be twice a month or more. The number of participants also varies; sometimes there are 6 to 10 women, other times more.
[End of meeting notes]
Prev | Home | Next
All text and photos by David Booth unless otherwise indicated.
Change image size: Tiny | Small | Medium